November 26, 2012 11:29 pm
One great alternative to put away all that stress after a hard day's work is to visit Wensha Spa. In my case, we visited after this month's boss battle client- onsite wedding video and the works at the very strict Shrine of Jesus church. So the next day, I invited my friends there to have a good and fun time, and yeah, it was awesome!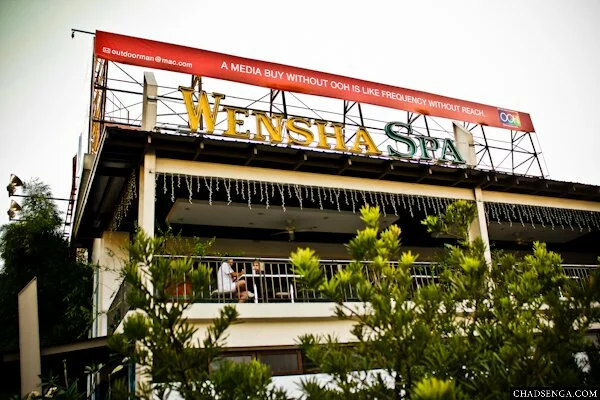 They currently have three branches: one in Pasay City, Quezon City and lastly, Antipolo City. We went to the Antipolo branch since it's the nearest one. To go there, just make your way en-route to Antipolo City via Sumulong hi-way, and you'll find it on the right side while going uphill along with Cafe Lupe. You won't miss it.
Ample parking space
Lounge area beside the etrance and reception
Okay, enough chitchat. What's so awesome about Wensha Spa Antipolo?
For the price of 780 PHP per person, we get the following:
-1 hour full body massage or facial care
-6 hour use of their facilities: hot and cold jacuzzi, sauna, steam bath and shower
-6 hour buffet + shabu shabu + yakiniku grill + desserts + bottomless drinks and beer
They're open 24/7, but certain facilities have their off-time.
Men's locker room, door leads to facilities
After registering at the front desk, they'll give you your slippers and a waterproof wristband which you'll use for your locker as well as validation. Upon entering your designated area (male or female), you'll be given a robe, shorts and towel, then be directed to your personal locker.
For the first timers, be aware that they have a lot of rules to follow here. For example: when going to the facilities area, you are required to NOT WEAR or BRING ANYTHING except for your towel. And when dipping in the hot or cold jacuzzi, you must be completely naked. This was very awkward for us guys at first lol. But after awhile, we didn't care that much anymore since our minds were off into rejuvenation land. In the steam bath and sauna area, you can bring your towel if you're not too eager in exposing your manhood.
My perfect order in using the facilities would be: shower > 15 mins. hot jacuzzi > 10 mins. cold jacuzzi > 15 mins. steam bath > shower > 10 mins. cold jacuzzi > 15 mins. sauna > shower > 10 mins. cold jacuzzi > shower then move on to the massage area, and finally, the buffet area!
I apologize for not being able to take pictures of their facilities and massage area. I tried talking to their branch manager, but they won't budge an inch. They were pretty strict in not allowing cameras while in the spa premises. So anyway. We went to the massage area one floor below. My verdict? It was pretty awesome! You'll get to choose between male or female, mineral or mentholated oil, as well as moderate or hard massage. I got the female mentholated moderate massage. I don't really know how to grade a therapist, but I was all smile when I got out of that room. So she must be good lol.
We went to the third floor after to gorge ourselves with shabu-shabu and yakiniku foodstuff. The buffet food was nice, but not all that great. Focus on the shabu-shabu and yakiniku grill instead to get the most of what you paid for. To end this post, here are a few pictures of the food and dining area (these are stolen since it's also forbidden to take pictures of the food, so they say). Enjoy!
Spicy Random Shabu-Shabu prepared by yours truly!
Yakiniku raw beef
Yakiniku on the grill
Shabu-Shabu ingredients
Yakiniku ingredients
Buffet area
Desserts area
Me and le friends
WENSHA SPA (Antipolo Branch)
G/F Comoda Ville, Sumulong Highway
Antipolo City
Telephone Number: 655 73 77
Email: [email protected]
Facebook Page
Related posts:
Hawkers St - "Awesome Asian Streetfood in Cainta!"
Hi-Rice Grill, Mongolian Rice Bowl All-You-Can!
Burrito Brothers' Burrito Mayhem!
Nendoroid Petit Type-Moon Collection Unboxing!
First Time Nendoroid Photography
Upcoming Anime This Spring 2013
Maoyuu Maou Yuusha Review
Mother's Day at Nihonbashitei
TAGS: adriane ungriano, antipolo, bottomless beer, break, buffet, cafe lupe, chad senga, cold, dennis sagragao, facial, foot spa, grill, hot, jacuzzi, joal magbitang, Korean, ladi paguia, mac cavestany, manila, massage, metro, rejuvenate, relax, rizal, sauna, shabi shabu, spa, steam bath, tin relativo, vacation, wensha