Apparently, another special episode of Carnival Phantasm was released last November 2011, titled Season EX. It really doesn't have anything to do with a whole season, but it lasts for around 20 minutes, far longer than your usual 12-14 minute Carnival Phantasm episode. In the episode list, it's supposed to go before number 9, the start of Season 3.
New characters have been introduced and have been given ample screen time, specifically these four:
Aozaki Aoko from Shingetsutan Tsukihime, sister of Kara No Kyoukai's Aozaki Touko – the one who made Shiki's glasses that suppresses his Mystic Eyes of Death Perception. In this spin-off of their fateful meeting, Aoko actually showed herself to Shiki not to genuinely help him, but to 'raise' him to be her future spouse. Cougar-lol!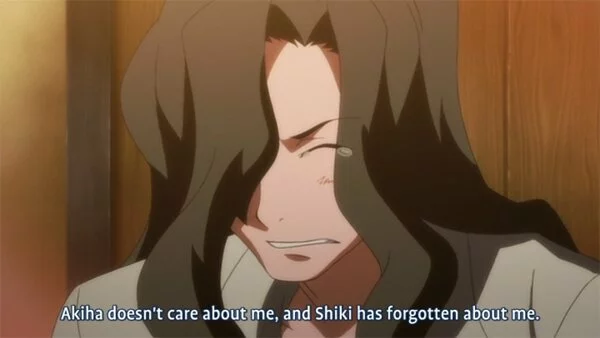 Michael Roa Valdamjong, the main antagonist of Shingetsutan Tsukihime. This version of him is based from the original visual novel and Melty Blood game since in the anime, he never really had a body to begin with. He just reincarnated as the 'other' Shiki Tohno. You can see him at the beginning of the episode, recently incarnated, taking comfort in the company of Nrvnqsr Chaos.
Next is Caren Ortensia, a main character from Fate/Hollow Atraxia – the sequel to Fate/Stay Night. Since I wasn't able to play Fate/Hollow Atraxia, I wasn't able to grasp firmly the punchlines in the scene. So I did a little researching before watching it again :D
It appears that she is a priestess of the Church and serves as an objective mediator in the false Holy Grail War created by Avenger and Bazett Fraga McRemitz and, in the place of her absent father, Kotomine Kirei, as the Master of Lancer and Gilgamesh. In Carnival Phantasm Ex, she attempts to control the world using money with varying degrees of success.
Lastly, we have Bazett Fraga McRemitz, a main protagonist of Fate/Stay Night's sequel, Fate/Hollow Atraxia along with Emiya Shirou. She was originally the master of Lancer, but due to unsuspecting events, she became the master of an unfamiliar servant, Avenger.
Here's the download link from NyaaTorrents:
DOWNLOAD CARNIVAL PHANTASM SEASON EX
Other Links:
Season 1 | Season 2
Here are further screenshots: